About Us
Merry Mesh Network Integration Company Limited was founded in 2007 with the aim to secure projects in Myanmar as well as to provide user-friendly utilities off the shelf for our customers. We provide design, installation, servicing and maintaining the equipments according to our customers' needs and wants. Moreover, we also conduct trainings to maintenance staffs of our customers to ensure smooth flowing operation and a hassle-free environment. The maintenance contracts are provided for periodic maintenance service after project installation to completely achieve the customers' satisfaction. We are confident to claim that we thoroughly involve in a project from its conception until it is fully operated.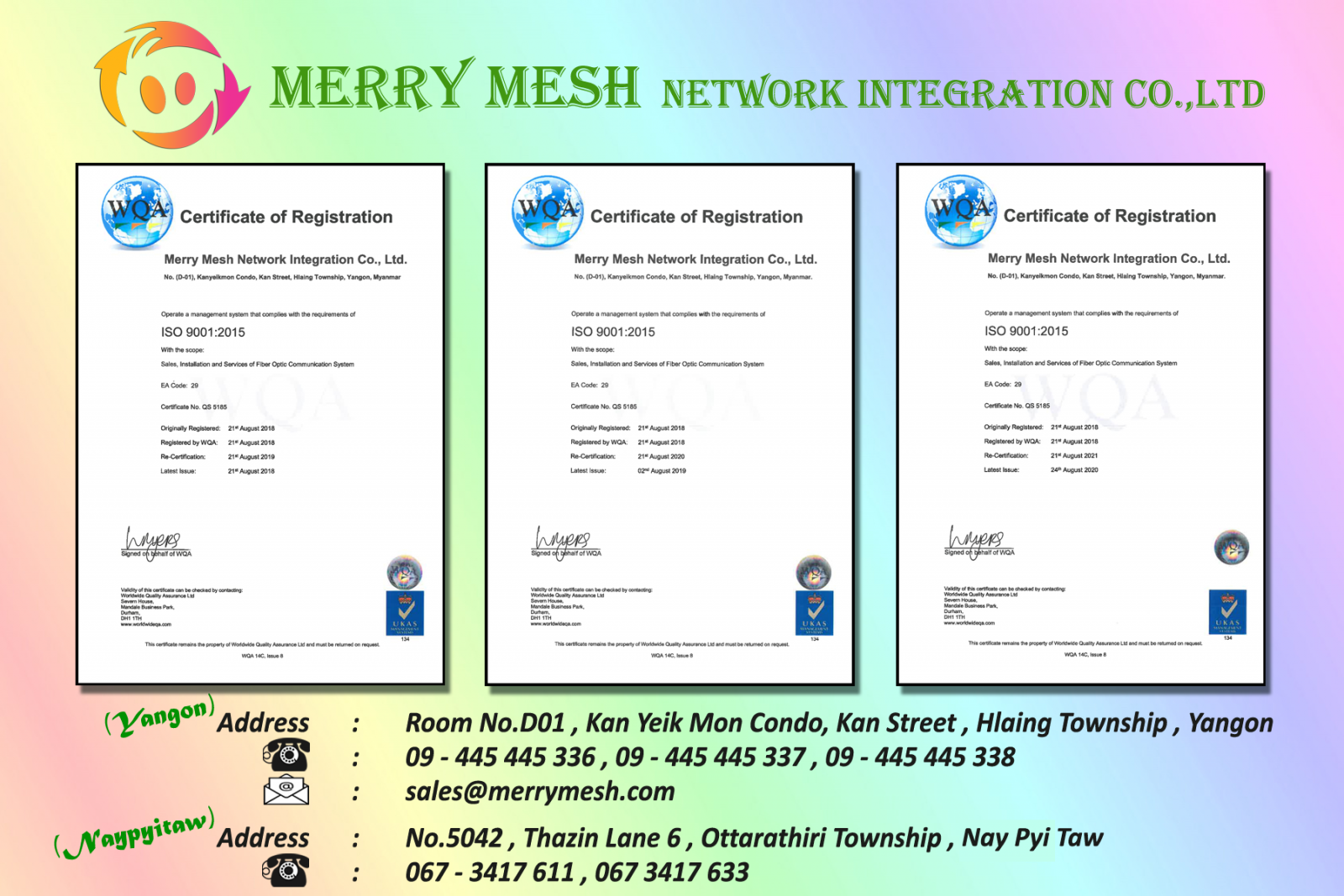 Our Slogan
"Merry Mesh - Happy Network"
Our Mission
Inspire, support and provide most reliable experience to our partners.
Our Vision
To be Myanmar's most trusted partner for quality experiences
Our Key Values
Transparency
Efficiency
Consistency
---
Major Activities

Sales and installation of :

Telecommunication Network
Internet & Intranet Network.
Fiber Optic Cable.
Telecom: Tower Earthing
Early Streamer Emission System (ESES)
Transient Voltage Surge Suppressor (TVSS)
Cable Antenna Tele-Vision(CATV)System
Master Antenna Tele-Vision (MATV )System
PA system and Pro Sound equipment.
Solar Power System
Close Circuit Tele-Vision System ( CCTV )
Open Conference, A/V System.
SITE DELIVERY PLAN FOR TURN KEY PROJECT
| | | |
| --- | --- | --- |
| Name of province ( Division ) | Region / Team | TeamSite Delivery / Month |
| Yangon, Bago, Ayeyarwady,Kayin, Mon | 5 | 30 |
| Mandalay, Nay Pyi Taw | 15 | 75 |
| Magwe, Sagaing, Shan | 10 | 50 |
| Rakhaing, Chin, Kachin, Kayah, Tanintharyi | 5 | 30 |
Business Scope and Capacity
| | | | | |
| --- | --- | --- | --- | --- |
| Type of Business | Year of Experiences | No. of Normal Teams | No. of Person/ team | Site Delivery Capacity / Month |
| Site Acquisition | About 8 years | 5 | 10 | 50 |
| Site Civil Works Survey and Design | About 8 years | 5 | 10 | 50 |
| Power Access | About 12 years | 5 | 20 | 50 |
| Site Construction | About 8 years | 30 | 30 | 50 |
| Right of Way | About 8 years | 2 | 5 | 50 |
| OSP Survey and Design | About 8 years | 5 | 4 | 50 |
| OSP Implementation | About 8 years | 50 | 30 | 50 |
| Telecom Equipment Survey and Design | About 8 years | 5 | 4 | 50 |
| Hardware Installation | About 8 years | 5 | 20 | 50 |
| FTTX | About 8 years | 50 | 30 | 50 |
| Others, please list it in detail | About 8 years | | | |
| Tower Erection | About 8 years | 15 | 15 | 50 |
| TVSS & ESES Installation | About 8 years | 10 | 5 | 50 |